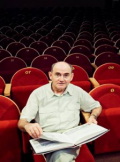 13.09 & 14.09.2008 (Sat & Sun)
Lalek (Puppet) Theatre (pl. Teatralny 4)

At this special edition of the series "Art of Reading: Paper Theatre (Sztuka czytania – Teatr papierowy)," the Lalek Theatre premieres 2 pieces taken from French authors' works, with the presence of the director Jan Peszek.

The first piece - "Opowieści z ul. Broca (Contes de la rue Broca)" by Peirre Gripari - is for children, and the second piece - "Kręciek i plankton (Vercoquin et le plancton)" by Boris Vian - is for the grown-ups only.

The spectacles will begin on Saturday (13.09) at 16:00 and Sunday (14.09) at 12:00 - After the first piece, there will be a puppet theatre workshop for children, while the accompanying adults could enjoy the second piece.


The spectacles will be accompanied by another short piece - "Les frères corses" by Alexandre Dumas - in the classical paper theatre form.

There will be also a display of a great collection of paper theatres from 19th century, presented here by a French puppet theatre artist, Alain Lecucq. The collection contains more than 150 original paper theatres from England, France, Germany and other European countries.

The reading will be in Polish.