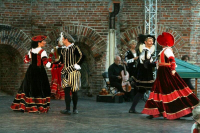 22.01.2012 - 15:00 (Sunday)
Cultural Center ZAMEK
(pl. Świętojański 1, Leśnica)
Free Admissions

Serenissima Wratislavia is a dance group specialized in the reconstruction of 15th & 16th century court dance. At the occasion of this carnival period, Serenissima Wratislavia will present some of the old dances and give a dance workshop.