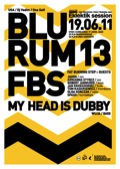 19.06.2011 - 20:00 (Sunday)
ETER (ul. Kazimierza Wielkiego 19)
Ticket: 35/29PLN

"Eklektik Session" was created in 2005, with an aim to provide a unique platform of interaction between musicians and artists of various genres & backgrounds. Today "Eklektik Session" is still one of the kind in the Wrocław music scene, and it offers a dynamic live electronic / dub / dubstep jam session. Fat Burning Step (a.k.a. FBS) (www.fatburningstep.com) leads the session, with the participation of the special guest: Blu Rum 13.