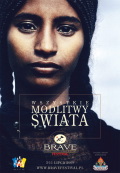 03.07.2009-11.07.2009
With the keyword "Against Cultural Exile," each year Brave Festival brings to Wrocław traditional performing artists and musicians from all over the world.

This year's focus is "Prayers of the World," and the main feature is the presentation of various traditional rites of religiosity or spirituality. The program includes: a Zikr ritual by a women's group from Georgia, a Tanzanian libation ritual, Korean mudang rituals, Corsican religious polyphonies, and also, from the UNESCO Intangible Cultural Heritage List, healing dance from Malawi, Ahellil chants of the Berbers of Algeria, and the Azer songs of Mugham.

Read more at http://www.bravefestival.pl (PL/EN)
日本語訳はこちら

The festival was started with the belief that, in the contemporary society, it is very difficult to keep traditional cultural forms without making compromises and that it takes unusual courage and perseverance to do so. The name of the festival ("Brave") is literally a homage to those people who are brave enough to stand against the currents of modernization and have a courage to be a bridge to our own cultural heritage.