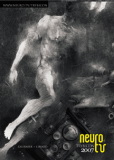 21.09.2007 – 18:00 (Friday)
Galeria ENTROPIA (ul. Rzeźnicza 4)
Free admission
The opening of the new exhibition by two artists – Robert Lenard and Marek Zalibarek – and the live performance. This exhibition – "Neuro TV: TRYBICON" – is a product of a cooperation between Entropia and "Rita Baum" & "Puzdro" magazines, and experimentally brings together two different worlds in one space: the metal work of Lenard, on the one hand, and the graphic work of Zalibarek, on the other. The exhibition is open till 09.10.2007.