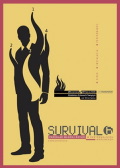 Survival 6: Art in Extreme Conditions
29.06.2008-01.07.2008 (Sunday-Tuesday)
Everyday 19:00-01:00
Dzielnica Czterech Świątyń

Every year, "Survival" Art Festival takes art works out of galleries and brings them to the public places, and by doing so, they hope to create productive dynamics with the general public. This year's edition will take place around the area known as Dzielnica Czterech Świątyń (see the map below). For the details of the programme and exhibitions, please see http://www.survival.art.pl (in EN/PL).

The opening reception will take place at Club Kamfora (ul. Św. Antoniego 24c) on Sunday 29.06 at 19:00.