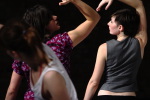 13.03.2010 - 19:00 (Saturday)
IMPART (ul. Mazowiecka 17)
Ticket: 25/20PLN

The 4th installment of the contemporary dance series - "Wibracje Taneczne / Dance Vibrations" - presents "Prawa półkula (Right Hemisphere)" by the choreographer Marysia Stokłosa. The title makes a reference to the right hemisphere of the human brain, and the project is inspired by and aims to explore the qualities attributed to that side of the brain, such as spatial abilities, visual imaging and music.



Prawa półkula
choreography: Marysia Stokłosa
light: Jan Cybis
dramaturgy: Peter Pleyer
costume: Ola Staszko
with music by: LeTigre, Nina Simone, Erik McKenzie
dancers: Aleksandra Borys, Halina Chmielarz, Hana Lee Erdman (US), Joanna Leśnierowska, Weronika Pelczyńska