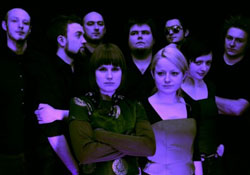 The local electronica orchestra "Digit-All-love" (http://digit-all-love.com) had a debut concert on 18.01.06, Wednesday, at Bezsenność, Wrocław.
The venue was completely packed, and the interested audience took seat in front of the main stage, as it were in cinema, everyone facing the stage.
After the concert, we asked MaciekZ, who is behind the development of the band, his impression of the first concert and also about the band and its history. The interview was conducted in English.
If you still have no Wrocław Weekly Podcast subscription, you can download the MP3 directly from the following link:
http://www.WroclawWeekly.pl/podcasts/podcast_dal.mp3 (3.2MB / 4:35)
This work is licensed under a Creative Commons Attribution - NonCommercial - NoDerivs 2.5 License by Wrocław Weekly