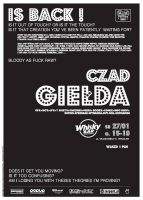 27.01.2007 - 15:00-18:00 (Saturday)
WHISKY BAR (ul. Włodkowica 18)
1PLN for entrance
CZAD GIEŁDA is a market place where you can sell, buy, get or exchange CD's, LP's, books, press, comics, t-shirt's, etc. The display will include products from independent labels & cultural magazines such as:
every color prod. / qulturap / gusstaff records / mik.musik! / malarie records / rockers publishing / lado abc / rita baum
and many others.