Journées de la Francophonie
14.03.2006 - 27.03.2006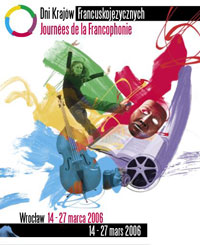 Commemorating the establishment of the intergovernmental organization of "Francophones," "Journées de la Francophonie" organizes various cultural events, installations and series of conferences every year. The guiding theme is thus "Francophonie" – it varies from the themes touching on French language and French culture to the ones deriving from the arts and cultures of French-speaking countries.
In 2006, the following performances are in programme:
12.03.2006
Arthur H. (Concert: in collaboration with "Singing Actors Festival / Przegląd Piosenki Aktorskiej") (Współczesny / Contemporary Theatre, ul. Rzeźnicza 12 - #1 on the map)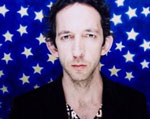 On Sunday, 12.03.2006, Arthur H. delivered a 2-hour long performance at Współczesny (Contemporary) Theatre. This performance was presented as part of the ongoing Festival of Singing Actors, but it was also the first of many events to take place during the "Journées de la Francophonie."

Arthur H. sang in French. Normally it could be a disadvantage for many non-Francophone audience, but his "acts" between the songs presented the lyrics – sometimes in English and sometimes in Polish – with extraordinary tact and they also created unexpected and yet timely comic reliefs. Instead of alienating the audience, it was as if he took advantage of language barriers to draw audience to his "poetry."

"Arthur H. was amazing on stage – his songs were full of lyrical puns, accompanied alternately by melodic tunes and funky rhythms." – Lise Aumeunier

[View the original post]
∗ ∗ ∗
14.03.2006
Fania (Concert by a Senegalese singer) (Firlej, ul. Grabiszyńska 56 - #2)
∗ ∗ ∗
20.03.2006 // Official Opening of the Festival //

The official opening ceremony of "Journées de la Francophonie 2006" was held at Lalek Theatre on 20.03.2006. Here are some images from the evening:



Click here to see more photos.

On 14.03.2006, at the occasion of the opening of the exhibition "32 dessinateurs africains pour la jeunesse," we spoke with Marc Brudieux from the French Embassy Wrocław office. He tells us on camera an idea of the "Journées de la Francophonie" and this year's key events in performing art.

[View the video]
∗ ∗ ∗
21.03.2006
Film Screening: "Les jeunes en France" (Cinema Atom, ul. Piłsudskiego 74 - #3) "C.R.A.Z.Y." / "Le grand Voyage" / "Z Film" / "C'est arrivé près de chez vous"
∗ ∗ ∗
23.03.2006 & 24.03.2006
Physical Theatre – "Premier Round" by the group TANGO SUMO (The main hall of NOT, ul. Piłsudskiego 74 - #3)








On 23rd and 24th March, 2006, the main hall of NOT (ul. Piłsudskiego 74) hosted the performance – "Prermier Round" – by the group TANGO SUMO. This performane was organized as one of the key performing art events of this year's Journées de la Francophonie. It was a particularly unique event in this festival: while the latter celebrates the unity of "Francophonie" around the French language, TANGO SUMO delivered a "physical" performance without words.

[View the video]
∗ ∗ ∗
25.03.2006
Fun Carmen (Jazz concert by a female, multi-instrumentalist trio) (Rura, ul. Łazienna 4 - #4)







As one of the key performances of "Journées de la Francophonie," the concert of Fun Carmen took place on 25.03.2006 at RURA Jazz Club. This multi-instrumentalist female trio from Lyon, France, played a music that crosses between existing genres with a masterful syncretism. The result was a unique mixture of originality and familiarity, and it was here carried out with energy and big smiles. In our interview, we asked Fun Carmen how they see their own music and where it comes from.

[View the video]
∗ ∗ ∗
26.03.2006
ARKA Theatre: "La leçon" by E.Ionesco (ul. Mennicza 3 - #5)








The final video podcast episode from "Journées de la Francophonie" brings you the performance of "La leçon" of E.Ionesco by the ARKA theatre on 26.03.2006. The one of three actors in the play – Alexandre Marquézy – is from France and here plays his role in French, while two others mix Polish and French in their dialogue. We spoke with him and asked about the difference that he sees in Polish and French theatres and the experience of working in this hybrid theatre group.

[View the video]
∗ ∗ ∗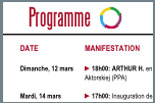 Also in programme are various conferences and concurs: for example, a conference on Milan Kundera by Anneliese Saulin-Ryckewaert (20th March, 16:30 at Alliance Française, ul. Świdnicka 10), or photos and poetry competitions for teenagers.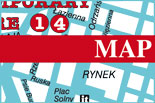 The complete event calendar is available (click on the picture or here). For more details of the programme, please download the PDF here (2.5MB / in French and Polish).

ERRATUM Catherine Gier's conference and installation/performance are cancelled
camera / edit: Karol Rakowski & Toyotaka Ota
interview / text: Toyotaka Ota