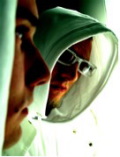 08.11.2007 - 19:07 (Thursday)
CAPITOL THEATRE (ul. Piłsudskiego 67)
Ticket: 20/15PLN
The premiere of a new hip-hop project by L.U.C (from Kanał Audytywny) in collaboration with Rahim. This new project tackles on current global issues such as environmental disasters, war, poverty and other darker sides of humanity and the tragedies. The guest artists at this national premiere include Maria Peszek and Dawid Szczęsny.

L.U.C & Rahim
Feat.
Justyna Antoniak (Capitol Musical Theatre) - vocal
Radomir Piorun (Wrocław Pantomime Theatre) - pantomime
Olga Kwiatek (Digit-All-love) - violin
Bożena Rodzeń-Jarosz - cello
Rafał Zalech (Digit-All-love) - viola
Adam Lepka (Mikromusic / Kanał Audytywny) - wind-instrument
Dawid Szczęsny - gramophone & electronic
toyo (Digit-All-love) - visuals
Miłosz Rutkowski - orchestra percussions
with the guest appearance of Maria Peszek