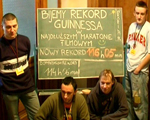 09.06.2006 - 17:00 (Friday)
ATOM (ul. Piłsudskiego 74)
Ticket: 5PLN
Wrofilm and Akademickie Centrum Filmowe presents the premiere of the documentary film "Rekord" by Wojciech Jodko. Jodko followed day and night the Guinness Record Film Marathon (20.02.2006-25.02.2006) at ATOM cinema with his camera, and this documentary is the result. There will be also the screening of the daily video reports that we - WroclawWeekly - produced and published during the film marathon, and the slideshow of photos taken by the photographer Paweł Gorczyca. The download links to our video reports can be found here.
After the screening participants and volunteers will receive the certificates.
Afterparty in La Luz (ul.Kraińskiego 14).
The film marathon was brought to an end by the common decision of 4 remaining participants at 116hours 05min, after beating the existing world record; the record has been submitted to the Guinness Record authority and awaiting the validation.