03.06.2008 - 20:00 (Tuesday)
CRK (ul. Jagiellończyka 10c/d)
Ticket: 5PLN
OPT (Ośrodek Postaw Twórczych) organizes with CRK (Centrum Reanimacji Kultury) an open-air picnic. The main feature of the evening is the projection of the silent movie "Dr. Jekyll & Mr. Hyde" (1920), accompanied by the live performance of Devil Music Ensemble (US) with their original score.

The Devil Music Ensemble, formed in Boston in 1999, is comprised of Brendon Wood on guitars, lap steel, and synthesizer; Jonah Rapino on electric viola, vibraphone, and synthesizer; and Tim Nylander on drums, percussion and synthesizer.

"The Devil Music Ensemble has established itself as one of the primary American groups composing and performing scores for silent films, and can be spoken of in the same breath as groups like the Alloy Orchestra and the Tin Hat Trio."
Dylan Skolnick - Director of Programming - Cinema Arts Centre
The DME has been on 6 U.S. tours and one European tour playing soundtracks for silent film; performing in museums, theaters, performing arts centers, and college campuses. In late May/early June the DME will be performing at a number of venues in Europe including: Focus Film Theater in Arnhem Netherlands, Filmhuis Lumen in Delft Netherlands, OPT art space in Wroclaw Poland, Panorama Museum in Bad Frankenhausen Germany, UT Connewitz in Leipzig Germany, Pupille Kino an der Uni in Frankfurt Germany, as well as venues in France and Switzerland.
—————–
Dr. Jekyll and Mr. Hyde (1920)
Synopsis: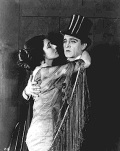 Adolph Zukor presents JOHN BARRYMORE in "Dr. Jekyll and Mr. Hyde" By Robert Louis Stevenson.
Directed by John S. Robertson.
Scenario by Clara S. Beranger.
Photographed by Roy Overbaugh.
Cast: John Barrymore, Brandon Hurst, Martha Mansfield, Charles Lane, Cecil Clovelly, Nita Naldi, J. Malcolm Dunn, George Stevens, Louis Wolheim, & Alma Aiken.

"Dr. Jekyll (John Barrymore) is a London doctor, progressive in his medical research, conservative and repressed in his personal life. A friend encourages him to explore the underside of life with a visit to a London music hall. Dancer Nita Naldi arouses Jekyll's repressed sensibilities, and when she embraces him, the doctor runs off. Later, Jekyll speculates on the advantage of separating the two natures of man in different bodies- one could "yield to every evil impulse, yet leave the soul untouched." Jekyll's scientific passion leads him to a formula that brings out his other side, Mr. Hyde, a man without a conscience.
The initial transformation scene is deservedly famous, achieving its power solely with Barrymore's expressive features. Visually, Barrymore's Hyde is not a monster, but the physical result of the effect of a dissolute life. Hyde becomes more decrepit as the film progresses, while Jekyll's goodness falters. Hyde pursues women, stealing their honor, while his alter ego Jekyll is uncomfortable even with his fiancee. This distinct duality is further developed when Hyde's depravities get worse and worse, and the two sensibilities begin to become less distinct.
The scenario goes to the essence of the story: the thin line between good and evil in the same person, and the inevitable conflict between the two. On an unconscious level, the film is also about different classes in the same city. The behavior of the working class Hyde is considered strange, but acceptable, until he attacks someone from the upper class (the father of Jekyll's fiancee). Just as Hyde allowed Jekyll to indulge in forbidden pastimes, the movies allowed Barrymore to indulge his upscale and downscale sensibilities. As a measure of the star's versatility, while this film was in production during the day at Paramount's New York studio, John Barrymore was starring as Richard III on Broadway each evening." —1997 David Pierce
(Taken from the press-release)