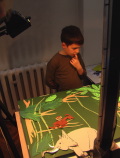 EPIDEMIA ANIMACJI (Animation Epidemic)
18.10.2008 - 18.00 (Saturday)
Cinema WARSZAWA (ul. Piłsudskiego 64)
Free Admission

Every year, Galeria Entropia organizes animated-film workshops for children, and this Saturday, we have a chance to watch the works of young animators on a big screen. The projection will be accompanied by the live music by Małe Instrumenty (see also our podcast episode with the band here).